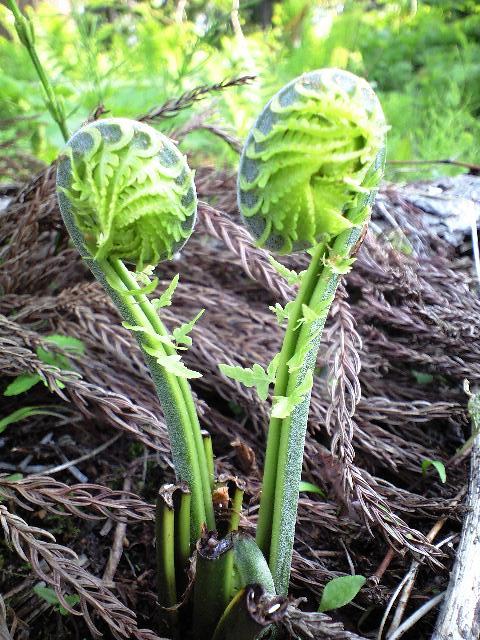 I'm on a roll so why not post another recipe lol.
Kogomi are the tender sprouts of the ostrich fern or fiddlehead fern. It might weird you out to think of eating a fern but these are one of the most delicious plants you can sink your teeth into in the spring! But you can usually only get them for about 3-4 weeks once you see them start popping up in the supermarket so make sure you grab them when you do see them!
They taste like a cross between asparagus and brussel sprouts, making them an easy addition to pastas, sautes, and so on (as my students would say). In Japan they tend to be included in salads, tempura, and stewed dishes.
How to Prepare
With kogomi you want to cut off the bottom inch of the stem where it has hardened and then give them a quick rinse. From there you can fry, saute, stew, basically any way you would prepare asparagus you can also prepare kogomi.
Easy Kogomi Recipe
Garlic sprouts are easy to include in just about any recipe. This stir-fry recipe is super easy and only takes about 45 minutes to make including marinating time.
Kogomi Pasta
Makes 2 servings
Prep Time: About 45 minutes
Ingredients:
8-10 kogomi heads
enough pasta for 2 people (about 150 grams)
5-6 small shiitake mushrooms, destemmed and sliced, or maitake mushrooms, chopped
1/2 small onion, thinly sliced
1 garlic clove, minced
1.5 tablespoons olive oil
1/4 cup fresh grated Parmesan cheese
2 teaspoons fresh lemon juice
Preparation:
1. Add kogomi to a large pot of boiling salted water. Cook until just crisp-tender. Transfer to bowl of cold water using slotted spoon. Cool kogomi slightly to stop it from cooking and drain.
2. Add pasta to same pot of water and boil until just tender but still firm to bite. Drain well.
3. Heat olive oil over medium heat in a saucepan. Add onions and saute until starting to brown.
4. Add garlic and saute 1 minute.
5. Add mushrooms and lemon juice and saute until just starting to become tender.
6. Add kogomi and pasta. Stir well.
7. Add cheese and stir until full incorporated.
8. Finished!