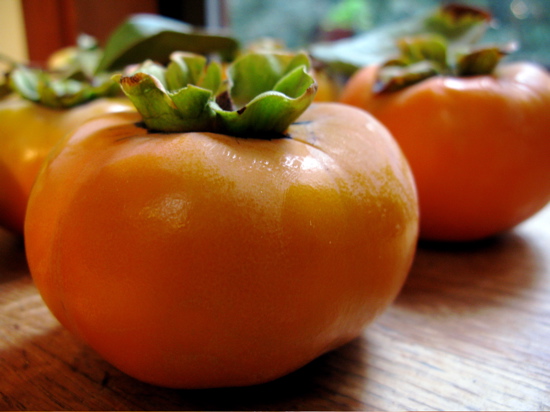 If you're in Japan, by now you've seen a bajillion persimmon trees around town and if you're lucky you'll start seeing the fruit appear on your desk too. Persimmons have a thick skin and sweet, almost creamy inside that lend themselves well to dessert dishes. They're also a nice accompaniment to braised pork, salads, and other savory dishes you would put apples or cherries in. Traditionally in the US persimmons would be used to make a baked pudding, similar to fruitcake. Japanese persimmons are high in vitamin C and fiber so they make a good breakfast choice.
How to Prepare
You can just bite into one like an apple or slice it up and enjoy the slices if you want a fast snack. Otherwise you treat it the same as an apple in cooking. Most persimmons you buy in the store will be seedless or have tiny seeds, so you generally don't need to worry about deseeding them. Just cut off the top and start cooking!
Easy Persimmon Recipe
This is a recipe that a middle school girl I used to tutor many years ago taught me. I'm amazed I was able to find it again! To make your pudding extra fancy, cut off the tops of the persimmons and hollow out the insides so that they become little cups. Fill the cups up with the warm pudding and place in the fridge to set. Impressive presentation that takes little effort!
Persimmon Tapioca Pudding
Serves 4-6
Prep Time: About 1 hour
Ingredients: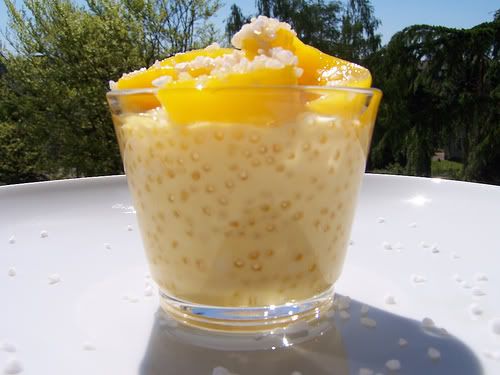 1 cup small tapioca pearls
4 cups milk or coconut milk
2 large, ripe persimmons, the insides scooped out and chopped (or peeled and chopped if you're not making the cups)
4 tablespoons honey
1/2 teaspoon cinnamon
1/4 teaspoon ginger paste
1/2 teaspoon cardamom
pinch turmeric (for color) OPTIONAL
Preparation:
1. In a large pan, soak the tapioca pearls in the milk for about 40 minutes.
2. In a small saucepan, add the cut persimmon, cinnamon powder, ginger and 2 tablespoons honey, and place the pan over heat. Stir well, cover and cook on low till the fruit softens. Remove from heat and put aside.
3. Place the pan with the tapioca soaked in milk over heat along with 2 tablespoons honey and the cardamom. Bring everything to a boil, reduce the heat and simmer for about 5-7 minutes, stirring all the time.
4. Add 3/4 of the cooked persimmons along with the turmeric and continue to cook till the tapioca pearls are completely done and the mixture has thickened. Keep stirring frequently.
5. Spoon into bowls or persimmon cups. Top with the reserved cooked persimmons. Serve warm or chilled.
6. Finished!