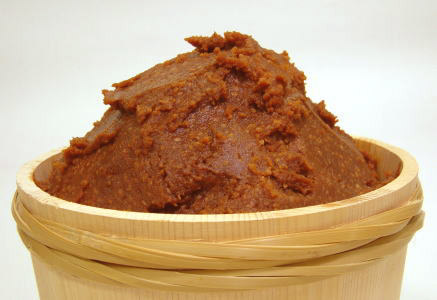 Miso isn't technically a plant, but it's made from plants, and most of us have no idea how to use it other than in miso soup. Miso is made from soybeans, salt, and the colonel's blend of secret spices to make a versatile paste that can be added to many recipes for salty goodness. They make white miso, red miso, chunky miso, smooth miso, miso that climbs on rocks. They each have their own merits and it's worth trying out different kinds. Personally I like white miso when you're looking for a subtle miso taste and the darker misos for in your face miso explosion. Best of all, miso doesn't really seem to expire so you don't really have to worry about it spoiling on you.
How to Prepare
If you are adding miso to a sauce, marinade, soup, etc, add a small amount of warm water to the paste and whisk it with a fork until smooth. This makes it much easier to mix into whatever your making. Or you can be like me and just dip vegetable sticks into it for insta-dip.
Easy Miso Recipe
This recipe requires the best miso known to man, habanero miso (make sure to get the red one for this recipe). If you don't have time to go down to Kyoto and discover
the amazing habanero store
, you can sub any red miso paste for the miso and chili oil for the sesame oil. If chicken isn't your thing, I have also made these using fried tofu squares and it's just as tasty.
Sticky Sesame Chicken Wings

Serves 4 for main dish, 8 for appetizer
Prep Time: About 1 hour
Ingredients:
1 large garlic clove, crushed and minced
2 tablespoons soy sauce
2 tablespoons habanero miso + 1 teaspoon warm water to make smooth
2 tablespoons honey
1 teaspoon sesame oil
Pinch of togarashi
800 grams chicken wings or drumsticks
1 1/2 tablespoons toasted sesame seeds
1 scallion, chopped

Preparation:
1. Place chicken in a baking dish, evenly spread. Bake at 180 degrees Celcius for 20 minutes or until mostly cooked. Remove from oven and allow to cool.
2. Mince garlic and mash to a paste using a large heavy knife.
3. Transfer garlic paste to a large bowl and stir in soy sauce, miso, honey, oil, and cayenne.
4. Add wings to sauce, stirring to coat. Allow to marinate for about an hour.
5. Either using your fish grill or a BBQ grill, grill wings until full cooked and sauce is just beginning to char.
6. Transfer wings to a large serving bowl and toss with sesame seeds and scallion.
7. Finished!
I have made these several times for BBQs and potlucks and they have always been a big hit!